INDIA 12. THE PINK CITY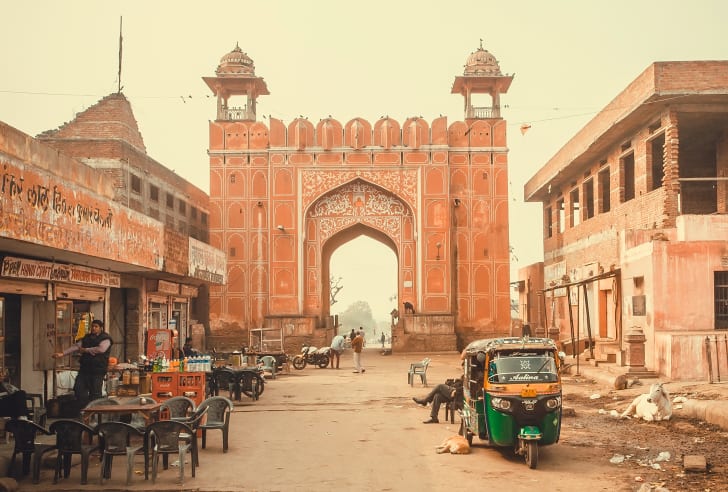 As we got close to Jaipur we thought we saw birds in the sky. They turned out to be kites. It was Jan 14th, the end of winter, the day when the Sun begins to move northwards again, bringing with it good health and wealth. Here in Jaipur people celebrate this by flying kites from their rooftops.
Jaipur is the "Pink City," because, they say, when the British Prince Albert Edward came to visit, the Maharajah asked him what was his favourite colour.
"Pink" replied the prince.
"Right-oh." said the Maharajah and he ordered the whole city to be painted pink.
That's one version. The other is that, because in India, pink is the colour of hospitality, the Maharajah had the town painted to impress the Prince. Either way, in 1877 he made it illegal to paint buildings any other colour. Even, to day, "Jaipur pink." is the only colour you can paint your house if you live within the nine gates of the city.
We landed at the Hotel Alisar Haveli. We'd been expecting a pleasant mid- range hotel, but this was something else. Courtyards, balconies, fountains flower-painted ceilings, rooms decorated in mirror mosaic and inset ivory, staff dressed up to the nines. This Haveli, was the place where merchants travelling the Silk Road used to stay when selling their goods to the Maharajah.
We went up to the roof to find two young men flying kites. All around you could see kites, kites flying high, kites cutting the strings of other kites, kites caught in the trees and a cacophony of shouts , cheers and music coming from the roofs of all the buildings around.
We ate in the magnificent dining room,
but the food wasn't great and the staff acted like they were thinking "tourist trash".
*HOTEL ALISAR HAVELI
Sansar Chandra Road
Jaipur, Rajasthan 302001
India.
Stunningly beautiful hotel. Reception staff delightful. Dining room staff very off hand and dismissive. Food indifferent. CHICKEN WAS NOT PROPERLY COOKED! When we pointed this out they agreed not to charge us for it… BIG DEAL!