8. INDIA – DELHI AGAIN
We went back to Delhi. This time it didn't seem as difficult as it had on day one. I began to notice things. I realised that whole streets are devoted to shops selling the same kind of goods electrical appliances, clothing etc. Our Hotel* was in a backstreet, off a back street, close to the workshops that made and sold statues of gods and goddesseses, memorial statues of family members and images of famous Indians.
Outside the shops you'd often see a young man sanding down the plaster on a new piece, while, in the depths of the shop, an older man, possibly the owner, caught you looking and attempted to induce you to buy.
But even if I'd wanted them I couldn't carry them under my arm as I boarded my flight!
Now that we felt better able to gird our loins and sightsee, we decided to visit the Hanuman temple. Hanuman is the monkey god, a figure of strength, perseverance and devotion. When Sita, wife of Lord Rama, was kidnapped, Hanuman helped find her. And, to judge by the number of images you see in hotels, homes, shops, cars, and tuk-tuks, he seems very popular.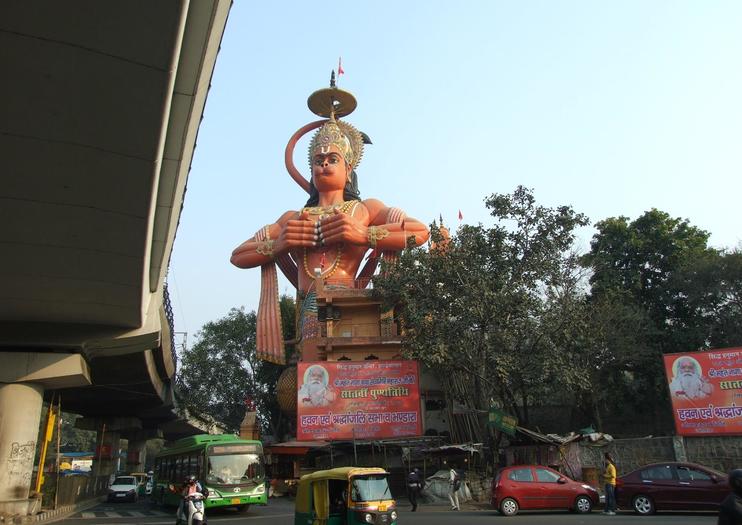 The temple is under this huge statue and you have to take off your shoes before entering, take them off while you're still on the street. As I mentioned earlier, the streets are splattered with who-knows-what and wandering cows, dogs, and goats are not known for their personal hygiene! There was a young man standing on the street who, for a few pence, makes sure your shoes aren't stolen. I took off my shoes, took a deep breath and hoped that any germs I picked up crossing the pavement wouldn't be fatal.
The entrance to the temple is up steps designed to look like the inside of a monkey's mouth.
Once inside there are several altars each more exotic looking than the next. and while we were trying to decide which way to go, we were set upon by a priest who put an orange mark on our forehead, took us to his altar and indicated that we should donate money.
Instantly another priest captured us took us to his altar and intoned an interminable prayer and wrapped an orange thread round our wrist. He too expected money.
In the background a man sat singing and playing a harmonium. Another man sat with a bucket of water washing down a larger than life-size statue of Hanuman.
For exotica it's the place to go.
Back on the street with my shoes and socks safely on again I couldn't wait to get back toour hotel an scrub my feet clean. However, while we probably picked up all kinds of germs none of them made us sick and none of them killed us. Maybe we're just over-protected western wusses.
Hotel Ritz 8567 Arakashan Road, Paharganj Behind Shiela Cinema, Paharganj, 110055 New Delhi, India HIGHLY RECCOMMENDED Lovely helpful staff, very reasonable, great food.